Home

Units
GDR Plasmonique Active

Plasmonics is a vast scientific and technological field of research, with applications oriented to many domains such as energy, nano-medicine, environment, enhanced spectroscopies, nano-optics, sensors... Plasmonics exploits the interaction between light and metallic materials (in the form of thin or nanostructured layers), through the excitation of localized surface plasmons (at the particle scale) or propagative (at the interface between a metallic film and a dielectric medium) resonances. This effect is associated with an oscillation of the surface charge density, which is accompanied by a strong enhancement of the electric field near the metallic surface. The progress made in nanotechnologies ,at the beginning of the 21st century, made it possible to couple plasmonic nanostructures with inorganic or organic components with various functionalities (electrical, mechanical, optical, acoustic, thermal, etc.), paving the way for a new field of studies and applications called "Active Plasmonics". The transformation from a plasmonic system to an active plasmonic system therefore requires the coupling of a metal structure or film with an active component allowing reversible control of the response of one or the other of the two constituents.
The main objectives of this GDR is to animate the French researcher community, to structure research activities and to encourage and follow developments around the same thematics: Active Plasmonics. These missions are particularly insured by the organization of scientific meetings, thematics schools and workshops during the 5 years of its duration.
JOURNÉES PLÉNIÈRES - 28 et 29 JUIN 2021
Université de Technologie de Troyes

Les journées plénières sont l'occasion, pour les chercheurs membres du GdR, de présenter leurs recherches en rapport avec la plasmonique active, en favorisant une approche pluridisciplinaire. Les doctorants et étudiants sont largement associés à ces rencontres, qui ont lieu chaque année dans diverses villes de France.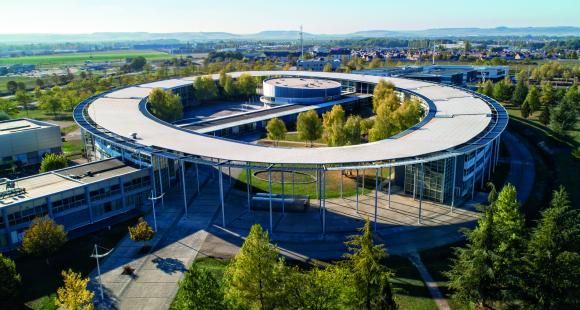 Inscriptions
L'inscription aux journées plénières du GDR est gratuite mais OBLIGATOIRE.
Les inscriptions sont ouvertes du 6 avril au 4 juin 2021 via le lien ci-dessous.

CLIQUEZ ICI
Dates importantes
Ouverture des inscriptions: 6 avril 2021
Limite de soumission des abstracts : 31 mai 04 juin 2021
Clôture des inscriptions : 04 juin 2021
Hôtels
L'Université de Technologie de Troyes est très excentrée par rapport au centre-ville et à la gare de Troyes. Par contre, elle est bien desservie par les bus (ligne 6 ou 8) et donc, si vous prenez un hôtel proche de la gare (hotel de la gare, Les Comtes de CHampagne, Le Royal…) vous serez à l'UTT en 25 min de bus depuis l'arrêt Gare Jardins de la ligne 6. Vous pouvez également prendre un hôtel plus au Centre, notamment vers le cinéma (Mercure, Ibis, Ibis Style…) et dans ce cas là, l'arrêt Poincaré de la ligne 6 est à 2 min à pieds et vous ne serez plus qu'à 15 min de l'UTT.

De plus, Troyes Champagne Metropole met à votre disposition un site regroupement les offres d'hébergements disponibles dans l'agglomération : https://www.troyeslachampagne.com/organisez-votre-sejour/hebergements/
Transports
Train :
En raison des conditions sanitaires actuelles, le site de réservation de la SNCF n'est pas mis à jour aussi régulièrement que d'habitude. Il est donc très possible que des trains en provenance ou à destination de Troyes soient ajoutés dans les semaines qui viennent. N'hésitez pas à vérifier régulièrement le site TER Grand Est


Bus :
L'UTT est facilement accessible depuis le centre ville via les bus du réseau TCAT
Ligne 8 - Arrêt UTT
Ligne 6 - Arrêt Technopôle


Taxi :
Taxi Troyens : 03 25 78 30 30
Aube 10 Taxis : 03 66 72 27 22

Soumettre un abstract
Vous pouvez proposer une communication sous forme de poster ou d'oral, dans l'un des quatre axes du GDR (rappelées en bas de page):
Axe 1 : Plasmonique accordable
Axe 2 : Plasmonique et réactions chimiques
Axe 3 : Plasmonique et transformations physiques
Axe 4 : Vers des dispositifs plasmoniques intégrés
La conférence se tiendra essentiellement en français mais certains oraux pourront aussi être en anglais. Nous demandons cependant à tous les présentateurs de composer leurs diapos ou leur poster en anglais pour tenir compte des quelques participants non-francophones.

Les résumés doivent être soumis à l'adresse suivante, en précisant la communication choisie (oral ou poster): anne_laure.baudrion@utt.fr

ABSTRACT BOOK
Programme
Orateurs confirmés:
Nadia DJAKER - OUDJHARA : Laboratoire CSPBAT (CNRS UMR 7244) - Université Paris 13
Claire MANGENEY - Laboratoire LCBPT (CNRS UMR 8601) - Université Paris Descartes
Jean-Jacques GREFFET - Laboratoire LCF - Institut d'Optique (CNRS UMR 8501) - Université Paris Saclay
Alexandre BOUHELIER - Laboratoire ICB (CNRS UMR 6303) - Université de Bourgogne Franche-Comté
Plan du site
Les journées plénières se dérouleront les 28 et 29 juin prochain à l'Université de Technologie de Troyes, au sein du grand amphithéâtre (M500). L'accueil de la conférence est situé au bout du bâtiment M (point bleu marqué d'un A blanc sur le plan ci-dessous). Les personnes arrivant en voiture peuvent se garer sur le parking visiteur en entrant "Rue Fernand Sastre 10430 Rosières-près-Troyes" dans leur GPS.
Pour des raisons de plan Vigipirate en action, seuls les entrées de l'UTT situées à l'accueil central (marqué "accueil" sur le plan) et l'accueil de la conférence au bout du bâtiment M seront ouvertes. Il sera nécessaire de porter son badge en permanence au sein de l'UTT.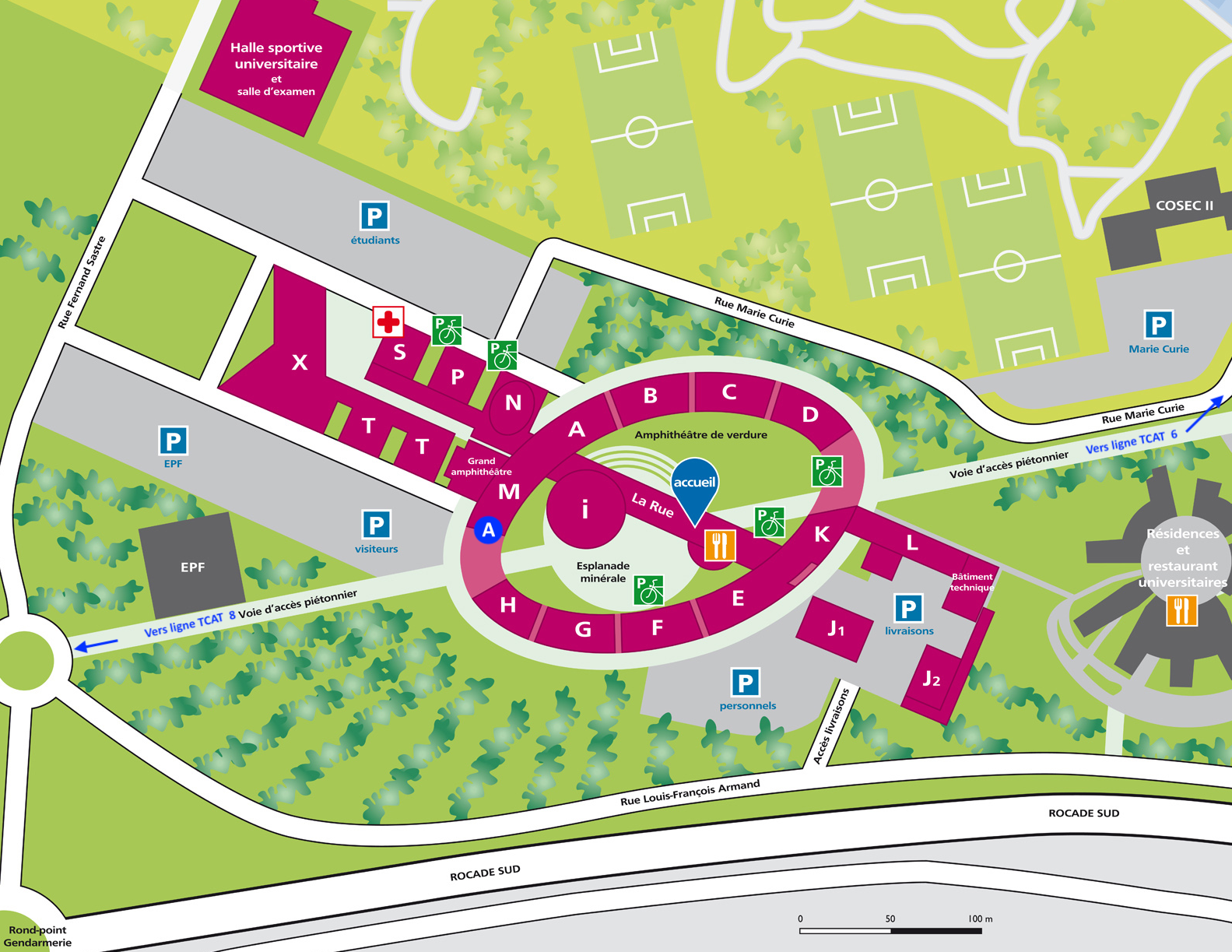 Comité Local d'Organisation (CLO)
Anne-Laure BAUDRION
Aurélie BROUSSIER
Tasnim GHARBI
Claire GONG
Paul ROBINEAU
Augustin VERNEUIL

Thématiques scientifiques
Les thématiques du GDR sont rappelées ci-dessous:
Axe 1 : Plasmonique accordable
L'objectif est la modulation et le contrôle des propriétés optiques de structures plasmoniques hybrides, de façon réversible. Nous nous intéresserons à l'accordabilité des propriétés plasmoniques par l'intermédiaire d'un milieu diélectrique actif (inorganique, organique, solvants, molécules...), ou d'un couplage plasmonique (cœur/coquille, dimères de nanoparticules –NPs-, ou couplage entre NPs et un substrat métallique...). Nous nous intéresserons également à l'auto-accordabilité (via l'injection d'électrons).

Axe 2 : Plasmonique et réactions chimiques
L'axe 2 sera consacré à l'induction de transformations chimiques par l'intermédiaire de l'excitation plasmon. Parmi les transformations envisagées, on s'intéressera notamment aux réactions de réduction chimique, à la fonctionnalisation de surface, aux modifications structurales, à la polymérisation, à la catalyse.

Axe 3 : Plasmonique et transformations physiques
La plasmonique inductive permet également d'induire et de contrôler des effets physiques. Nous nous intéresserons à des phénomènes thermiquement activés (thermoplasmoniques), des effets optiquement activés (effet photoélectrique, optique non linéaire, photo-voltaïque,...), mais aussi acoustiques (génération de phonons induits par excitation plasmon). Les effets électroniques liés à la génération d'électrons dits « chauds », souvent à l'origine de ces transformations physiques (mais aussi chimiques), seront également un aspect important abordé. Il s'agira de s'intéresser aux mécanismes liés à cet effet, peu développés sur le plan expérimental.

Axe 4 : Vers des dispositifs plasmoniques intégrés
Cet axe concerne la conception et la réalisation de dispositifs submicroniques divers toujours plus performants, combinés à l'ingénierie plasmonique. Nous nous intéressons ainsi à des composants de type capteurs plasmoniques actifs (incluant les techniques SPR –surface plasmon resonance-, les spectroscopies exaltées comme la fluorescence, la spectroscopie infra-rouge et la diffusion Raman), des dispositifs intégrés actifs (optiques, thermiques, électroniques...). Un volet important sera consacré à des systèmes de transduction, assurant une conversion ou un transfert de signaux (optique, acoustique, ...) en un signal de nature électrique, ce qui représente un enjeu majeur notamment dans le domaine de l'énergie.