Home

Units
Grand Chambardement
Overall context
In April 2019, the CREIDD team and Chênelet Institute (Research institute for living and including in rurality) conducted a territorial experiment in the municipalities community of the Barséquanais based on the emergence of collective dynamics for the socio-ecological transition. This experimentation was named Grand Chambardement. It led to continue the experiment in this territory to carry out the first projects and to envisage a rise in empowerment of local communities. The goal is to experiment to test different root based approach for transition in rural areas, that could be expanded to other rural territories.

The main challenge of these experiments is to concretize at the local level and in an operational way, a kind of "territorial alliance", between public institutions, economic network, civil society, research and higher education, as a translation of the 2030 Agenda for Sustainable Development and the Sustainable Development Goals (SDGs).
Our partners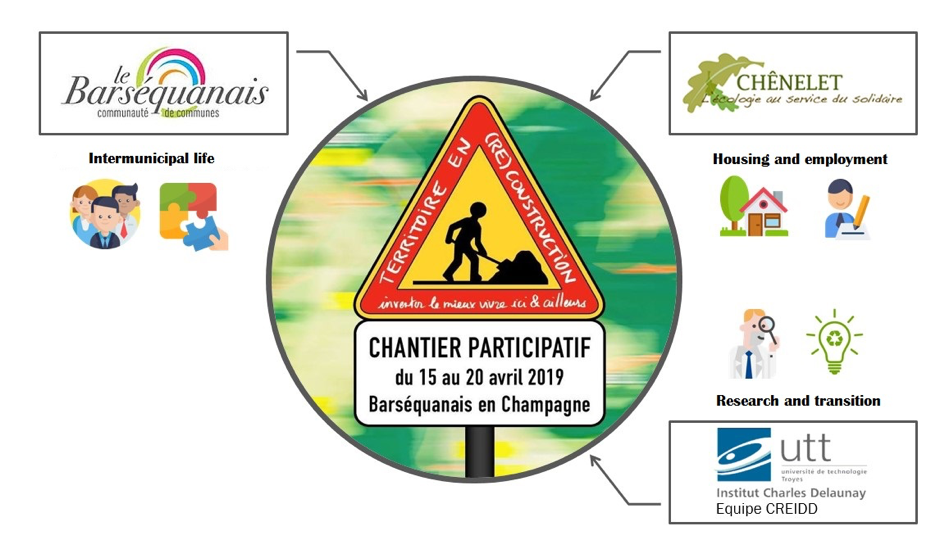 Objectives of experimentations
While traditional recipes and top-down territorial development are no longer proven in rural areas, the territories of projects (communities of municipalities, Rural and Territorial Equilibrium Poles (PETR), ...) are searching approaches adapted to the local scale. These approaches must respond to the dual challenge of implementing the ecological transition and promoting a better life for their inhabitants, particularly the most vulnerable. The objective of territorial experimentation is therefore to invite, through different mechanisms, the inhabitants to engage collectively to define the needs, to invent and implement solutions to improve their daily lives, and to strengthen the local economy.
The University faces the challenge of training qualified professionals who will have to evolve, innovate and thrive in the complex and uncertain context of a successful socio-ecological transition. This includes the invention of teaching approaches "outside the walls", which allow students to confront the real, the challenges of scientific or operational engineering at the service of actors and territories.
Finally, the third objective is to respond to the strong search for meaning and the requests for concrete involvement of students, who rarely perceive the potential for experimentation and innovation existing in rural areas.
The first experiment in the Barséquanais area
The university team (teachers-researchers, young researchers and students) are mobilized 3 to 4 months upstream the event. They met the elected representatives and a majority of stakeholders of the territory for designing the experimentation. After several weeks of institutional communication and to the public, a week of free and open workshops is being implemented. It was announced as "a friendly week of workshops and discoveries to initiate change and launch concrete initiatives". The workshops were facilitated by professionals of collective intelligence or students trained in these techniques.
The themes of the workshops was:
Discovery of an itinerant Fablab and robot programming workshops
Biodiversity, collective gardening in rural villages
Draw your dream village to better inhabit it
People's history: visits to the historic sites of the territory, animated by the inhabitants
Digital inclusion: learning the basics in an intergenerational context
Our members involved:
Pauline Marty
Lou Grimal
Jocya Ferrari
Nadège Troussier
Tatiana Reyes
Santiago Perez
Rémi Céret
Quentin Schneiter
Lilia Gutierrez
Julie Plantefève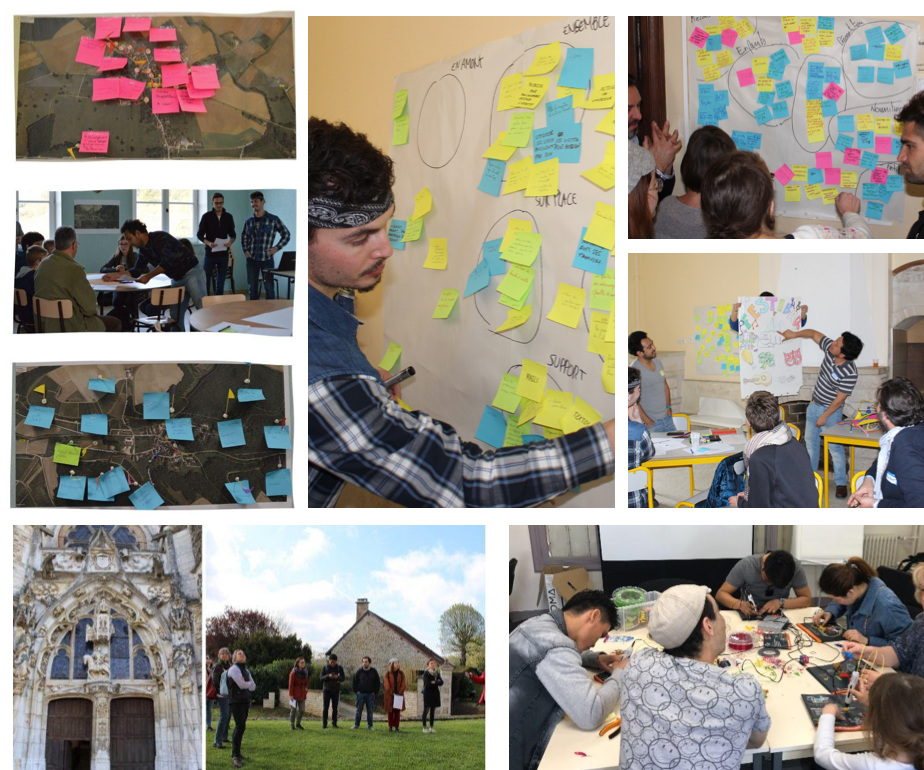 Experiment in Othe-Armance
The Rural and Territorial Equilibrium Poles (PETR) Othe-Armance (Aube), implemented an "ecological transition" commission to bring together a network of local entrepreneurs and craftsmen, and wishes to engage them in the path of socio-ecological transition. Initially, students of the Master IMEDD (Engineering and Management of Environment and Sustainable Development) UTT carry out diagnostics of sustainable development on the issues of food and waste, and sustainable development diagnostics of companies (according to the major stakes of the standard of Corporate Social Responsibility). The purpose of these diagnoses is to engage the main issues of the territory, map the stakeholders to be engaged and elaborate a short and long-term action plans. As a result of these diagnoses, we would like that civil society and other companies be included in a working group to consider the projects to be undertaken for the transition, during participatory workshops that will be organized in spring 2020.

Our members involved:
Pauline Marty
Claudine Gillot
Sabrina Brulot