Home

Units
BLSURF CAD surface mesher
BLSURF is a CAD (composite parametric) surface mesher. The mesher can be plugged to a CAD platform or used as an external module. In the first case, the surface evaluation with derivatives must be provided.

As an external module, two CAD formats are taken into account, namely IGES and STEP files.

The mesher is governed by several parameters which must be specified by the user and in particular the size or the metric.

The methodology is explained in the article [1] and illustrated in the poster [2].

The following images show some capabilities of this software.
houman.borouchaki@utt.fr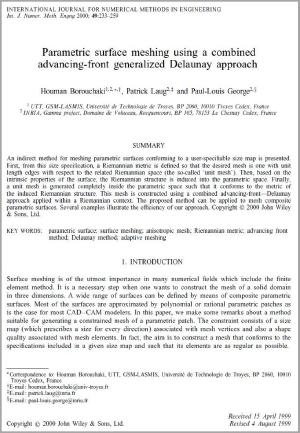 [1]
H.Borouchaki, P.Laug and P.L.George
Parametric surface meshing using a combined advancing-front generalized Delaunay approach (pdf)