Home

UTT
"Outstanding Paper Award" pour le LOSI
Publié le 9 septembre 2019
–
Mis à jour le 9 septembre 2019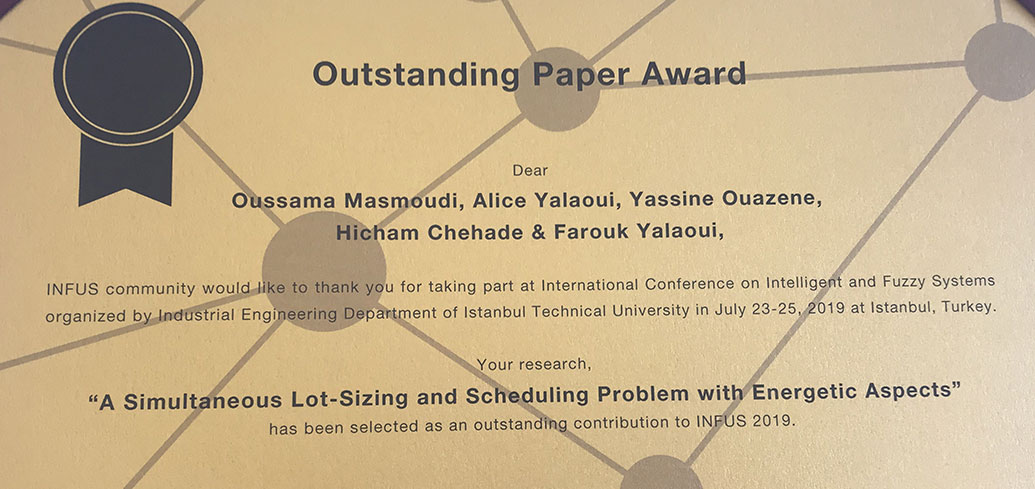 Les travaux du laboratoire
Logistique et optimisation des systèmes industriels (LOSI)
ont été récompensés lors de la conférence internationale
INFUS 2019
(International Conference on Intelligent and Fuzzy Systems) qui s'est déroulée du 23 au 25 juillet 2019 à Istanbul (Turquie).
L'article "A simultaneous lot-sizing and scheduling problem with energetic aspects" publié par Oussama Masmoudi, enseignant-chercheur au LOSI, a reçu le prix du "Outstanding Paper Award" parmi les 150 papiers acceptés à cette conférence.
Ce travail a été réalisé en collaboration avec Alice Yalaoui et Yassine Ouazene, enseignants-chercheurs au LOSI, Hicham Chehade, chercheur associé, et Farouk Yalaoui, Professeur des Universités à l'UTT, Directeur de l'
ISIFT
et titulaire de la
Chaire Connected Innovation
.