Home

UTT
Les travaux de la chaire Connected Innovation récompensés lors de la conférence internationale IFAC MIM 2019
Publié le 3 septembre 2019
–
Mis à jour le 3 septembre 2019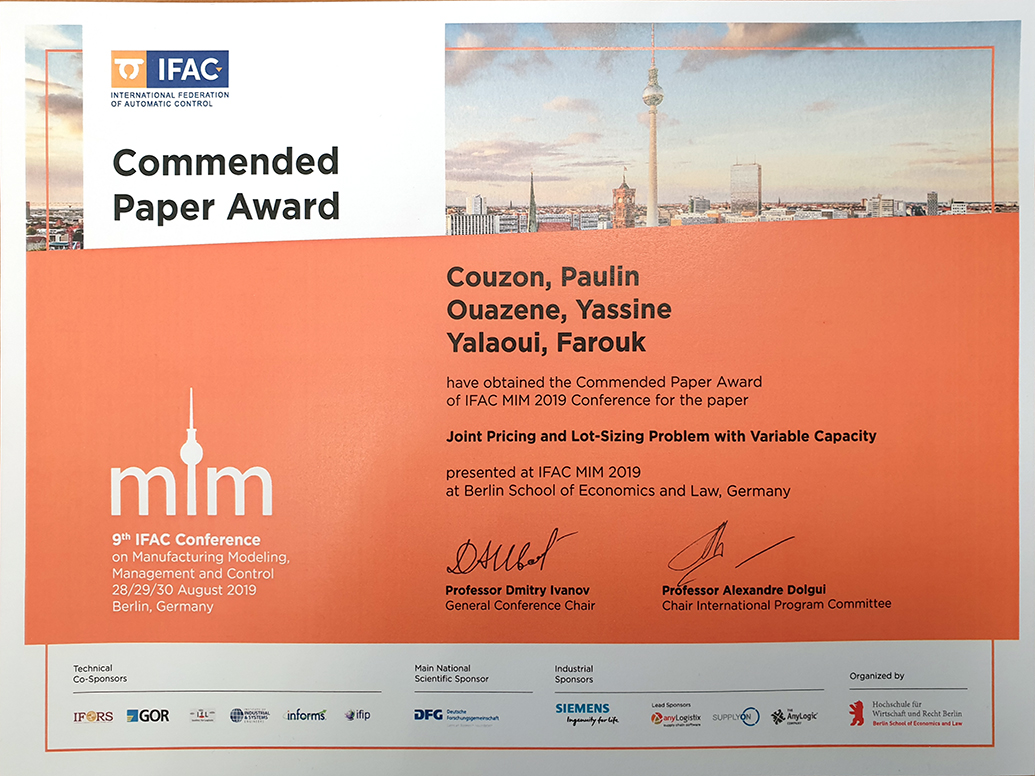 Les travaux de la chaire Connected Innovation ont été récompensés lors de la conférence internationale IFAC MIM 2019 (
IFAC International Triannual Conference on Manufacturing Modeling, Management and Control
) qui s'est déroulée du 28 au 30 août 2019 à Berlin (Allemagne) et qui a réuni plus de 700 participants.
L'article "Joint Pricing and Lot-sizing problem with variable capacity", publié et présenté par Paulin Couzon, doctorant de la chaire Connected Innovation, sous la direction de Yassine Ouazene, enseignant-chercheur à l'UTT, et Farouk Yalaoui, Professeur des Universités à l'UTT, Directeur de l'ISIFT et titulaire de la Chaire Connected Innovation, a reçu le prix du "Commended Paper Award" parmi les 540 papiers acceptés à cette conférence.
Ce prix témoigne l'intérêt de la communauté scientifique pour les travaux innovants menés par la chaire et le laboratoire
Logistique et optimisation des systèmes industriels (LOSI)
, depuis plus de deux ans, sur le "Smart pricing" (tarification intelligente) et plus généralement sur les services et industries du futur.