Home

UTT
Deuxième atelier du Data Science Institute (forme hybride)
Publié le 14 septembre 2022
–
Mis à jour le 29 septembre 2022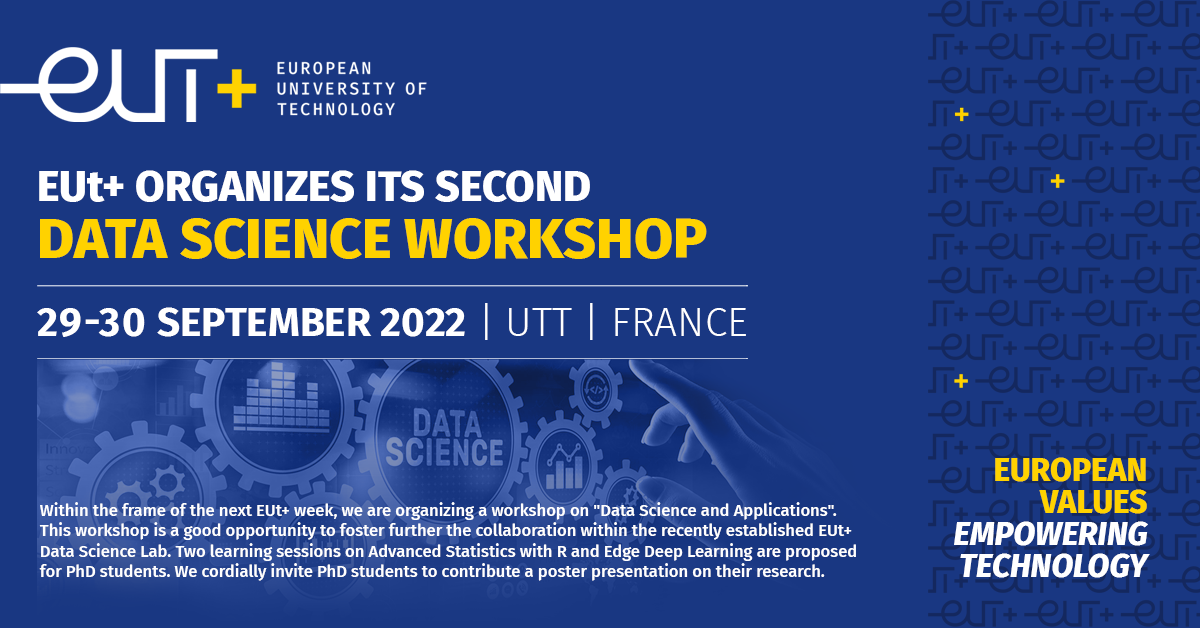 Jeudi 29 – Vendredi 30 septembre à l'UTT, Troyes
Dans le cadre de la Troyes Week EUt+, nous organisons un workshop sur la thématique "La science des données et ses applications" les 29 et 30 septembre 2022. Ce workshop sera l'occasion d'encourager la collaboration au sein du Data Science Institute récemment établi par EUt+.
Nous invitons cordialement les doctorants à présenter leurs recherches lors de ce workshop. Ce dernier comprend deux sessions d'enseignement et une session de présentation dédiée aux doctorants. Les contributions seront publiées dans EUt+
Academic Press
.
Thèmes du workshop (non limitants)
Intelligence artificielle
Big data
Technologies basées sur les données / Data driven technologies
Machine learning
Traitement du signal/de l'image/des graphes
Communications numériques
Réseaux
Robotique / agents autonomes
Distributed processing
Recherche opérationnelle / optimisation / transport
IA embarquée / électronique / capteurs
Data mining / decision making
Text processing
Forensics et cybersécurité
Traitement du langage naturel
Explicabilité de l'IA
IA symbolique
Sciences humaines et sociales en IA
Veuillez soumettre le titre et le résumé de votre présentation avant le 15 septembre à un membre du comité d'organisation local (voir liste ci-dessous). Le
template du résumé est joint
à cet article.
Télécharger le template
Comité d'organisation

Programme du workshop

Télécharger le programme

Thursday morning for PhD Students

10:00 - 12:00
A teaching session: Advanced statistics with R
In parallel with
A teaching session: Deep learning/Edge computing
12:30 Lunch

Thursday afternoon

14:00 A talk given by Prof Hichem Snoussi, UTT
14:30 A talk given by Prof Desislava Ivanova, TU Sofia
15:00 A talk given by Andreas Weinmann, h_da
15:30 Coffee Break
16:00-18:00 Presentation session from PhD Students (Posters): Short papers published by

Eut+ Academic Press

18:00-19:00 Discussions about Data Science Institute (Committee members)
19:00 Social Event

Friday morning

09:00 A talk given by Frederic Bertrand, UTT
09:30 A talk given by Sotirios Chatzis, CUT
10:00 A talk given by Lola Cano, UPCT
10:30 A talk given by Ilze Birzniece / Andrejs Koliskins, RTU
11:00 Coffee break
11:30 A talk given by Sergiu Nedevschi, TU Cluj
12:00 A talk given by Pramod Pathak, TU Dublin
12:30 Lunch

Friday afternoon

14:00-> 15:00 - Conclusion and next steps.